To not miss any African news, subscribe to the newsletter of the World Africa from this link. Every Saturday at 6 a.m., find a week of news and debates covered by the editorial staff of the World Africa.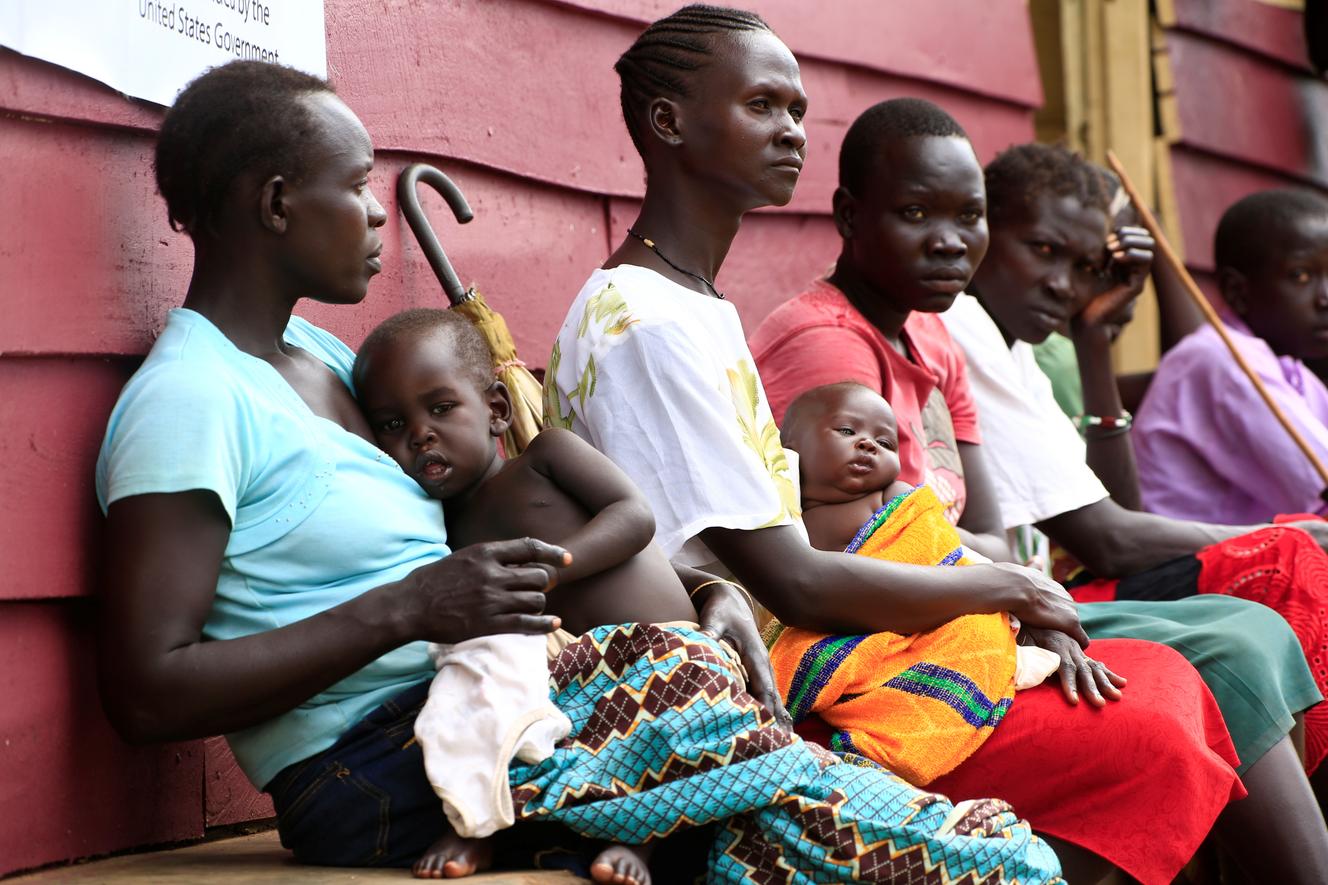 Haya Yunis Martin has never forgotten the shock of discovering the plot of land given to her family when she arrived in 2016 at Rhino Camp in northwestern Uganda. "It was in the middle of nowhere and there was grass as tall as us! We had to cut everything down before we could pitch our tent and it took us several months to build a decent shelter."says this 30-year-old South Sudanese from the border region of Yei. Six years later, three clay huts to accommodate the large family of 22 people stand in the same place. Freshly washed clothes are drying on the thatched roofs and vegetable and cassava plants grow on a few square meters of garden.
Read also
In Yei, a South Sudanese town strangled by conflict, life resumes in dotted lines
Like Haya Yunis Martin, around 135,000 refugees, mostly South Sudanese, live in Rhino Camp in the West Nile region. Neither barbed wire nor fence to delimit the site: the different villages that make up the settlement are scattered for miles. Host populations and newcomers mix there.
The first host country on the African continent, with more than 1.5 million people registered with the United Nations High Commissioner for Refugees (UNHCR), Uganda is often presented as a model for its hospitality policy. In addition to the land granted to each household upon arrival, the law on refugees, voted in Parliament in 2006, guarantees them the freedom to move throughout the territory, to work and to access health and education services. The stated objective is that they become independent after five years in the country.
The law on refugees guarantees them the freedom to move, work and access health and education services
" Uganda has been promoting self-reliance for two decades, but the burden is largely on the refugees", explains Achieng Akena, director of the International Refugee Rights Initiative (IRRI). Since her arrival, Haya Yunis Martin has found a few assignments, notably translation, with certain NGOs, but always on a short-term basis. "There is no work in the camp, we only survive thanks to food aidshe regrets. The land is too small and the rocky ground does not allow us to cultivate enough. What little we grow, we only use to supplement our rations, not to sell. »
"There are a lot of prejudices"
Many refugees therefore decide to leave the areas reserved for them to try their luck in the surrounding towns, such as Arua, the main town in West Nile, 60 km west of Rhino Camp. This is the case of Jacob Liwa: a year after arriving in Uganda, the South Sudanese settled in 2017 on the outskirts of the city with his brother's family. "I am lucky to have come to the country with my motorbike", he explains. But his plan to taxi for camp residents was doomed: "There, nobody has money or even a place to go. I had almost no customers. »
In Arua, the 29-year-old manages to earn just enough for his rent and to help his brother pay school fees for his children. But five years after settling in town, the family continues to depend on food rations distributed once a month in their registration camp. "Integration is quite different between theory and reality, and it's actually only designed in the places intended for it, Achieng Akena analysis. In urban areas, refugees are asked to become self-sufficient with almost no support and in a context that does not favor them. »
Read also
In western Uganda, the shattered lives of thousands of climate-displaced people
Outside the camps, refugees are in fact little taken into account in urban policies, nor counted, but the municipality of Arua estimates that they represent almost a quarter of the city's population. "Without a central government budget, some services are not adapted, which leads to saturation of public schools and the regional hospital, or to drug shortages"observes the mayor, Sam Wadri Nyakua.
For their part, refugees claim to be discriminated against in access to certain services or employment. With his motorcycle taxi, Jacob Liwa mainly transports South Sudanese. "It's very difficult for us to find a job here, there are a lot of prejudiceshe laments. For example, Ugandans say we are aggressive. And we are often asked to pay more, like for school fees. »
"I only have a mattress on the floor"
" There is a lack of understanding of refugee status, confirms Achieng Akena. And some schools will ask for higher fees, while refugee children must by law receive the same treatment as a Ugandan citizen in access to primary school. It is the same for refugee organizations, considered as foreign and therefore subject to very high taxes. »
At Haya Yunis Martin, now, the monthly rations only last three weeks
Dependence on humanitarian aid makes refugees very vulnerable to the slightest change: since April 2020, the drop in funding linked to the Covid-19 pandemic has forced the World Food Program (WFP) to reduce by 30% the rations distributed every the months. "We observe many negative coping mechanisms, such as the reduction in the number of meals per day, an increase in child labor to earn a little money or returns to South Sudan in a still dangerous context"details Cissy Atim, based in Rhino Camp for the NGO Andre Foods International, local partner of the WFP in the distribution of food aid.
Read also:
World Food Program announces need to cut rations for refugees in Africa
At Haya Yunis Martin, the monthly rations now only last three weeks. In her garden, she depends more than ever on the few crops she manages to grow. "I've lost weight since I've been here. In South Sudan, I slept in a big bed and a nice house. Now I only have a mattress on the floor"she complains before qualifying: " At least I live in peace, without hearing gunshots near my home. »
Summary of the series "Africa of the Diasporas"
They are Congolese in Abidjan, Somalis in Nairobi, Senegalese in Casablanca… Contrary to popular belief of an African rush to Europe, the vast majority of African migrants remain on the continent. Having left in search of a better life, pushed on the roads by conflicts or the lack of prospects, they settled in neighboring countries or regional economic crossroads such as South Africa, Côte d'Ivoire or Kenya. In a series of reports, The World Africa invites you to discover some of the faces of these intra-African migrations.
episode 1
Article reserved for our subscribers

In Abidjan, the Congolese maintain the flame of the rumba
Part 2
Article reserved for our subscribers

Eastleigh, Nairobi's Somali Bazaar
Part 3
Article reserved for our subscribers

In Morocco, the ordeal of sub-Saharan domestic workers
Episode 4
In Uganda, the difficult quest for autonomy of South Sudanese refugees