"Politics is show business for ugly people," says Kimball. "How do you dress for that? Most politicians have no interest in clothes or appearance, and they've usually come from careers where that is not a top priority.
"The burden of their team is to make them look polished, professional and approachable when they're out on the election trail for long hours, seven days a week."
Advance teams for the leaders plan outfits around their daily schedules. Factories mean closed-toe shoes (trickier for women), while country visits have a "fairly standard uniform," says Larissa Moore, a former member of Malcolm Turnbull's team, of "checked shirt, chino, RM Williams and an Akubra", though Morrison often subs in a baseball cap in this instance.
Most outfits are planned seven days in advance, with teams sending a week's worth of clothing and shoes to the next stop on the schedule in case of emergency changes. "The hotel laundry bill really adds up," says Kimball.
Other politicians traveling with the leader will be notified of what the leader is wearing, to avoid clashes and to ensure everyone is adhering to the same dress code. The Australian Federal Police, who travel with both leaders, are also told what to wear so that the leader does not stand out needlessly in photographs.
Despite the importance of appearance, most politicians do not employ stylists. The ALP used to have a stylist on call, but mostly, says another former staffer, "they are on their own".
"Most politicians play it safe," says the staffer, who worked on the 2016 campaign. "They are middle-aged men, they usually come from professional backgrounds. What they find trickiest, I think, is looking casual and approachable."
Black tie, too, can be a challenge. "I've never met a pollie who loves wearing black tie," she adds. "They don't like looking too formal, as it can seem out of touch, almost un-Australian."
Conversely, visiting manufacturing plants can make leaders look less than prime ministerial. "Manufacturing means PPE, and nobody looks good in PPE," says the staffer. "So you would avoid those photos as much as you could."
Kimball worked with Abbott as a senior cabinet minister before he became prime minister in September 2013. As with Labor leader Albanese's recent makeover, Abbott also received a new look to match his role.
"Suddenly there was a lot more emphasis on what Tony wore," says Kimball. "There is a prime ministerial look. And clothing makes you feel confident. When you're lacking, you can feel better if you at least have your suit and tie.
"We don't fuss about these things for trivial reasons. They do matter. Constituents care about how you look, whether you're the kind of guy who looks like a leader." By January, she says, the newly minted PM was ordering custom-made shirts and suits, and "changing his hairdresser from the $10 guy at the Forestville shops to a proper barber."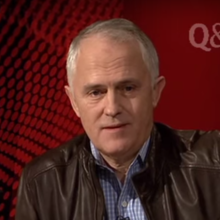 Day-to-day dressing on the election trail tends to follow a pattern for the candidate – Moore calls this "city leader," "country leader", "hi-vis leader" and "smart-casual leader" – to save time and energy, but also avoid potential disaster.
"You don't want to get too creative," says Kimball. "Clothing shouldn't be a distraction – remember when Malcolm Turnbull wore a leather jacket on Q&A? That becomes the talking point and distractions from what you're trying to achieve."
Color is still an important consideration, say Kimball and Moore. "You'll rarely see the leaders wearing anything but white shirts because they go with everything," says Moore. "Light blue ties are considered bipartisan, but you will see the leaders go with the colors of their party. Scott Morrison wears a lot of red, or shades of it, like maroon."
For politicians on their feet all day, shoes are important.
"It's actually so vital for them to have proper, good-quality shoes," says Kimball. "People forget shoes but you can't have a leader in agony. We need more leaders like Kamala Harris in their Converse on the trail. Comfort cannot be overrated."
Correction: Corrects that Tony Abbott became prime minister in September 2013.